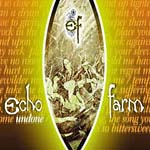 Harvest


Echo Farm
From the album
undone
released 1998
---

She came back to strike a balance in her life
between desire and revenge.
But she got caught up in the ropes of memory
and she got tangled in the end.

And she said,
Pain will dress up as desire,
Love will bite you in the end,
Don't claim you want to know me
cuz, I'll be gone then.

He came back from the land of unrequited love
eager to reap what he had sewn.
But you can't harvest what was never yours to start with
without turning up your soul.

And he said,
Do you know what you are made of?
Do you dream in black and white?
is your loneliness your privilege
or will you spend the night?

They went back to the time when he had known her last
back before his adult mind.
And he remember everything that she'd
forgotten, and he would not let go this time.

And he said,
you can take off all your armor,
you can rest inside my mind,
I remember you before you
let your damage drive your life.

And she said,
keep your arms where I can feel them
keep your eyes in line with mine
I'm depending on your hands to
overcome my mind.