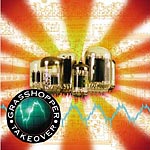 The Turn


Grasshopper Takeover
From the album 60-Cycle Hum
released 1997
---

This might begin to turn our world around. And bliss, the final sin, believe it won't happen if I'm around.

And life, our greatest need, sit down and you will feel its speed pass you by, bye. And love, our hidden cause, given and received it's not hard for me to believe.

But it does blow my mind and body apart but brings 'em back together stronger. Life has taught me to start so we can sing and chill together longer.

A ray of sunshine come through my head, well I imagine. And a day in the life of some of my days, well it's pain without medicine.

So dream the greatest dream and awake people and it will seem as the dream was not as it used to seem to be back then.

Respect me I'm energy, and I'll respect you in synergy, it's not hard for me to believe...